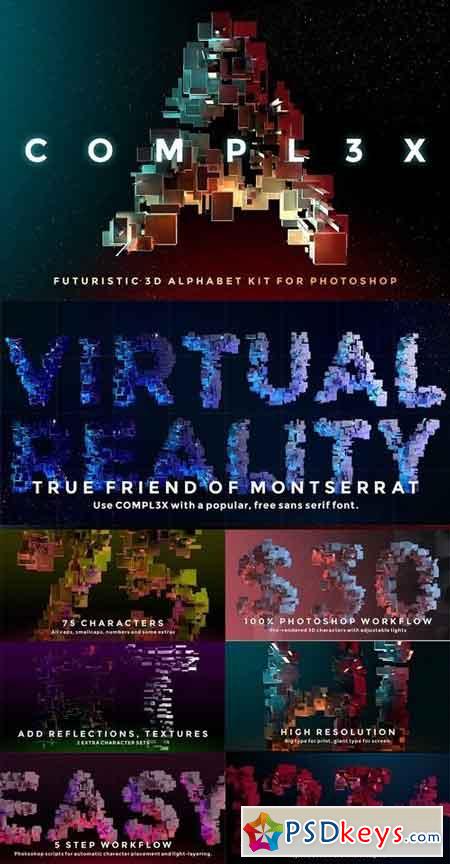 COMPL3X - Futuristic 3D Alphabet Kit 1147385
PSD, PNG, JSX | 862 Mb

This product is using two custom Photoshop scripts developed for this product to automate some of the processes.
Scripts/CreateText.jsx
It builds the text out of one smart object. It opens a dialog, asking for the text you want to work with. Then it duplicates the smart object containing all the characters as layer comps, positions the characters side by side (without kerning), and sets the layer comps to match the word.
Scripts/RGBtoLayers.jsx
It converts the RGB channels of a group, to a special set of layers (solid color layers, blending modes, masks), so the original RGB colors can be easily changed to any color and be used as virtual lights. e.g. you can turn on/off with the shadows, change intensity, add texture.
There are 3 ways you can use these scripts in Photoshop.
1.
You can browse the scripts from Photoshop.
Photoshop - File - Scripts - Browse
It's a slow workflow, so I don't recommend it if you want to experiment a lot.
2.
If the .jsx file extension is associated with photoshop, the much quicker way if just double-click the script file in windows explorer/finder.
3.
If you plan to use it a lot, you might want to install the scripts, so they show up in Photoshop under file-scripts menu. Just copy the two .jsx file from the scripts folder to Photoshop's Scripts folder which you can find in different locations based on what operating system, or what version of Photoshop you're using, but at the time of this writing, for the newest versions, you can find them here:
Windows 10 C:Program Files/Adobe/Adobe Photoshop CC 2017/Presets/Scripts
Mac Applications/Adobe Photoshop CC 2017/Presets/Scripts
It doesn't matter where you put the scripts. You can create a folder named Compl3x if you want. (eg:.../Presets/Scripts/Compl3x). After installing restart Photoshop, and you can now run the scripts by navigating to
Photoshop - File - Scripts - COMPL3X - Create Text (Select COMPL3X Smart Object)
or
Photoshop - File - Scripts - COMPL3X - RGB Group to Layers
The 3rd option is my recommendation because you will experiment a lot and it's still easy to set up. You can delete those scripts later if you feel it's cluttering your Photoshop script menu.
Please note: This is NOT a font or a vector file, but images of separated and movable letters with a transparent background.
TO FAST DOWNLOAD - PLEASE REGISTER AN ACCOUNT PREMIUM THROUGH MY DOWNLOAD LINK BELOW: RAPIDGATOR, Nitroflare, PREFILES, UPLOADED, Turbobit.