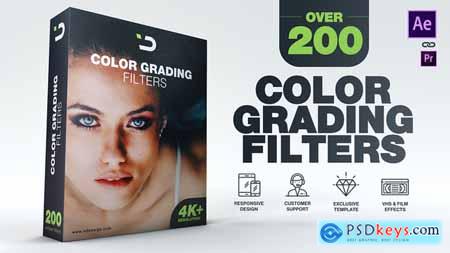 Videohive 200 Color Grading Filters 22564634 After Effects Projects Free
CC 2018, CC 2017, CC 2016, CC 2015, CC 2014, CC, CS6 | No plugins | Resizable | 841 Mb
Preview Page
Preview Project:
If you arenít applying any color grading to either your photographs, footage or motion work, you are potentially missing a vital part of the process of finalizing your image. Color grading can be one of the most impactful tweaks you can make to your work once itís been shot. It has the potential to elevate a good image to great, or a great image to outstanding. This After Effects template product is developed to deliver a powerful impact and improve your work. It includes over 200 unique color grading filters perfectly suited for films, video blogs, trailers, promo & music videos, presentation, broadcast, interviews, game trailers, explainer videos, motion graphics, and much more. Our biggest library of color grading filters is everything you need to make your footage look great, right on your editing timeline. The color grading process is completely automated while giving you the freedom to balance out your shots with color adjustments if needed. Then, go beyond color grading, with accurate simulations of VHS looks, film stocks and special effects to take your content to the next level. This collection of filters will give your footage a diverse range of professionals looks from Indie to Hollywood film. With color grading and effects, your footage can instantly have cinematic contrast and sophisticated color palettes of big budget movies. With over 200 fully customizable looks based on popular movies and TV shows, you will have beautiful results in seconds.
Whatís included:
Over 200 Filters with Automated Grading (Works with Video, Photo and Graphics)
No plugins, scripts or presents required
Fully Customizable (Ability to make adjustments to existing filters)
Resolution Independent (SD, HD, UHD, 4K and beyond)
Fully Resizable to any screen aspect ratio (phone, tablet, desktop, web, etc)
Works with After Effects CS6 and above
A step-by-step video tutorial
Free e-mail support: have questions about this product? Always here to help!
Music used in the preview:
Dramatic Trailer & Sport Big Beat