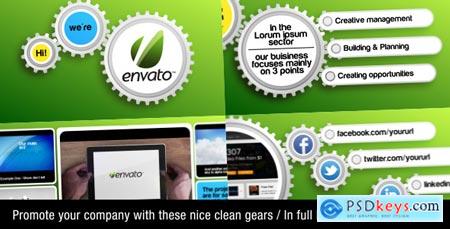 Videohive Clean Gear Company Promotion 2526856 After Effects Projects
CS5 | 1920x1080 | 37 Mb
Preview Project:
Promote your company with these nice clean gears. Make an impression within 1 minute. Make the click, show you are a well oiled machine and invite people to look you up.
This file is full HD 1920×1080, light and easy to use.
Structure:
1. Intro, have a problem?
2. Tell us who you are
3. What you do and your strong points, what you stand for
4. Show your work
5. Activate them to contact you
6. Logo and payoff
Including:
+ 5 colour presents (shown in the film)
+ 4 wood backgrounds (shown in the film)
+ a .pdf file explaining how to use the file
Font not included, but free for download here:
http://www.dafont.com/harabara.font
Audio not included, you can buy the wonderful track on Audiojungle:
http://audiojungle.net/item/sunday-morning/130676
+ Show how well your company is oiled
+ Show how well you can think
+ A bike store
+ A machine factory