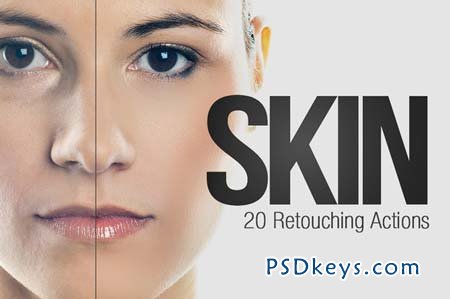 Skin - 20 Retouching Actions 3819
Photoshop ATN | 476 Kb

Retouch portraits in a fraction of the time with these skin retouching Photoshop actions! These actions let you mattify, airbrush, and heal skin using professional techniques.
20 Retouching Actions
Professional Results
Fully Editable Layers
Works with Adobe Extension Manager
The actions:
• Select Skin Tones
Automatically select skin tones with face detection. Requires Photoshop CS6 (all other actions are compatible with CS3 or newer).
• Mattifier and Ultra Mattifier
Mattify skin safely and quickly with the Mattifier action - this is the first step to making skin look matte. For more oily spots, use the Ultra Mattifier.
• Skin Airbrushing (Medium, Lite, Sharp)
After mattifying the skin, use the airbrushing actions to refine the look of skin. This is the same technique used by pro retouchers and it makes skin look smooth while retaining all the skin details. The lite version is great for a more natural look. For smoother skin with less skin details, use the sharp version.
• Skin Blur and Plastic Skin
For certain demographics, advertising agencies choose to use stronger skin retouching techniques. The Skin Blur action gives the skin a CG-look and retains most skin details. The Plastic Skin action takes it a step further with increased smoothness and reduced skin details.
• Brighten Eyes, Lip Enhancer, and Teeth Whitener
Easily improve the look of eyes, lips, and teeth with these actions. The Brighten Eyes action makes eyes brighter & reduces redness. It also prevents clipped highlights/shadows to retain details in the pupils. Lip enhancer makes the lips more vivid and teeth whitener reduces yellow in the teeth.
• Freckle Remover and Redness Remover
Remove freckles without cloning/healing! This action reduces light-brown freckles (ephelides) and blends them in with the skin. The redness remover is great for reducing skin inflammation and improving skin tones.
• Skin Effects
Two skin effects are included with this action set. The Emphasize Skin Flaws gives your portrait a grungy/dirty look - it find the skin details and emphasizes them without the use of filters. The Diffused Glow action makes skin glow but only in the highlights of the photo.
See it in action:
http://youtu.be/qFaqTnXkza8
TO DOWNLOAD FAST and DONT WAIT - PLEASE REGISTER a NEW ACCOUNT PREMIUM THROUGH MY DOWNLOAD LINK BELOW: RAPIDGATOR, LETITBIT, UPLOADED - IT HELP MAINTAINING THE FILE - IF LINK DEAD PLEASE COMMENT BELOW and I WILL REUPLOAD.