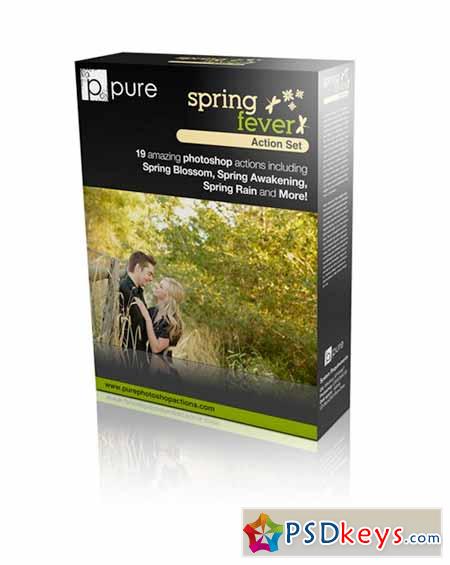 Spring Fever Photoshop Actions
Photoshop ATN | 128 Kb
Actions included:
1. Spring Blossom–A very gentle haze action. It brightens and pops just a little with a light purple tint.
2. Spring Blush–A little pop, a little warming, and just a HINT of haze.
3. Soft Spring–A creamy haze with an optional blur layer (note: Blur only available for PS users.)
4. Spring Buttercup–A warm springy pop!
5. Spring Awakening–A very subtle pop.
6. Spring Rain–A slight cooling and haze action.
7. Spring Color– This is a fun pop action that will really bring out the color in your images
8. Sprightly BW–(Photoshop version ONLY) beautiful and light, with good contrast and tone, but doesn't clip blacks.
9. Poppy–A pinkish, warm color haze action. Gentle and romantic.
10. Spring BW–Contrasty and exciting!
11. Spring Light–Quick addition of some brightening and contrast.
12. No Ordinary Slumber–Contrast, brightening, and some warming and neutral haze.
13. Tea Time–A VERY gentle, subtle action. . Perfect for that very very gentle lift.
14. Lavender Fields–A fun poppy purple haze! Very springy!
15. Get Your Tan On–This can work on an entire image, or painted gently onto skin.
16. Budding Tree–(Photoshop version ONLY)–a brownish tint with some vignette.
17. Primrose–A stronger pinkish, brown haze action.
18. Heavy Vignette- A stronger vignette that is still adjustable if you want to make it lighter.
19. Light Vignette>–A more subtle vignette that is still completely adjustable.
TO FAST DOWNLOAD - PLEASE REGISTER AN ACCOUNT PREMIUM THROUGH MY DOWNLOAD LINK BELOW: RAPIDGATOR, Nitroflare, PREFILES, UPLOADED.